Within the framework of the project, particular emphasis was placed on collaboration with the Digital Innovation Hubs and their innovative ecosystems. Their participation ensures the interoperability of the project and will allow interregional/field comparisons from various social, economic and cultural perspectives and foster future development for the benefit of local territories. 
Although the event is primarily aimed at Digital Innovation Hubs (DIHs), it is open to anyone who wants to learn more about the project and the opportunities for collaboration. Whether you are a public administration, an SME, a policy maker, a tech provider, a laboratory, etc., come and join our webinar.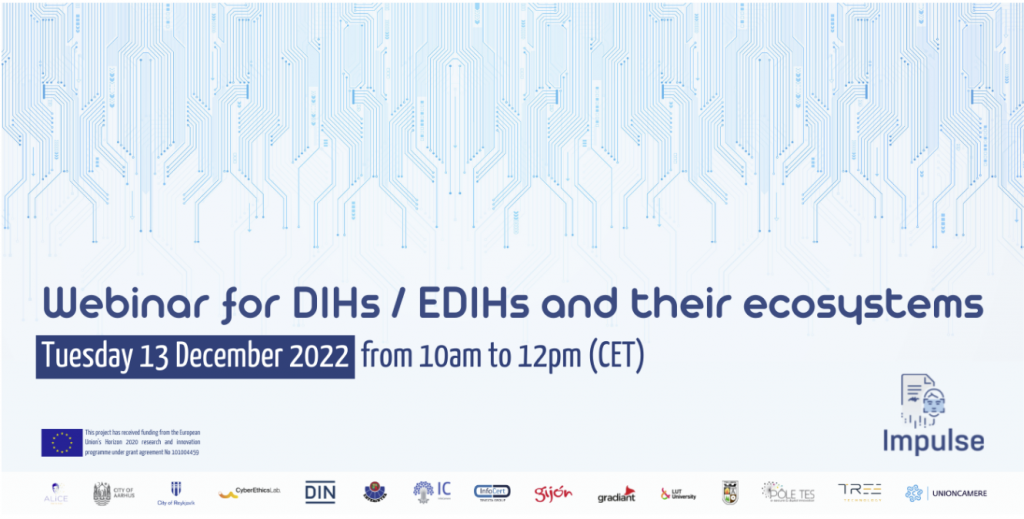 What can participants expect from that webinar: Opportunities for collaboration in different areas will be presented:
Collaborate in the implementation of a framework for a holistic integration of Artificial Intelligence (AI) and Blockchain technology to support secure and privacy preserving eID management 
Participate in the co-creation process of a single adaptive eID solution and be identified as local contact point as well as support organisation for the benefit of all public services across Europe. 
Access, adapt and exploit the research results of the project for the benefit of your own sector of activity. 
Date: Tuesday 13 December
Time: 10am to 12pm (CET)
Location: Online
Type: Webinar
Registration: https://www.eventbrite.co.uk/e/webinar-for-dihs-edihs-and-their-ecosystems-tickets-461831960827  
Contact: bertille.auvray@pole-tes.com